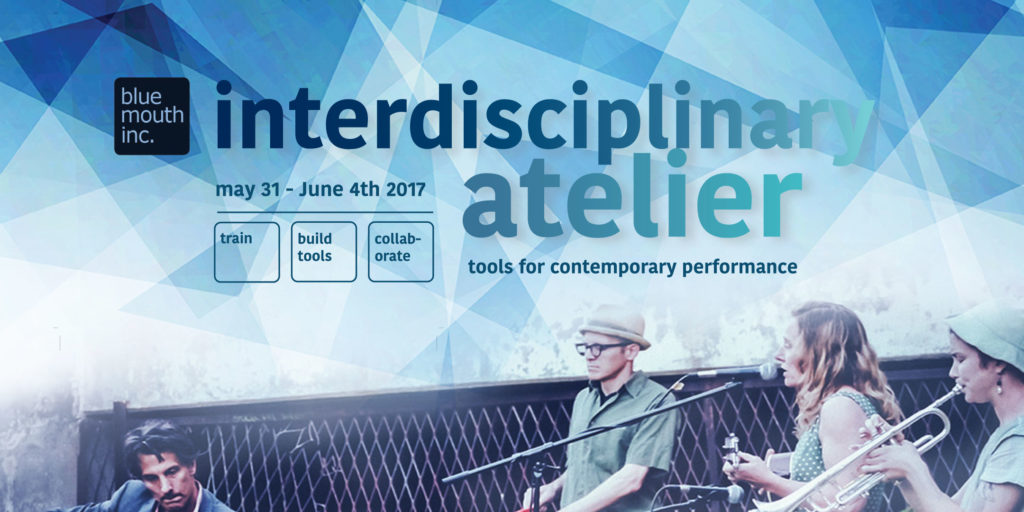 The Toronto Interdisciplinary Atelier is a 5-day intensive for artists to gain tools, collaborate and train in digital technology and interdisciplinary performance. 
program specifics:
The program will take place over 5 days, from May 31-June 4 2017 at the Theatre Centre in the heart of Toronto. The project will be led by bluemouth inc. core members Ciara Adams, Stephen O'Connell, Lucy Simic and Richard Windeyer offering modules in Voice and Text, Prototyping in Performance, Directing the Audience and Interdisciplinary Compositions.
The program will also include modules facilitated by guest artists Cameron Davis, Susanna Hood, Jacob Niedzwiecki, Mariel Marshall and Peter Rahul, with training in movement, mobile technology for the stage, digital visualization tools and glitch methodologies.
See the full program overview here:
registration:
1. a la carte: $15/hour
2. half day (2 modules) $50/half day
3. full day $125/day                                     
4. full 5-day training: $300 (early bird – before May 1st, 2017)
5. full 5-day training: $375 (after the earlybird deadline)
Earlybird tickets will be available until May 1st, 2017 for any individuals wanting to gain access to the full workshop. After that time, we will open up sales on a partial basis – by the hour, by half-day and by full day.
To register please visit our Eventbrite page. For questions, please contact associate artist, Mariel Marshall, at mariel [@] bluemouthinc.com.