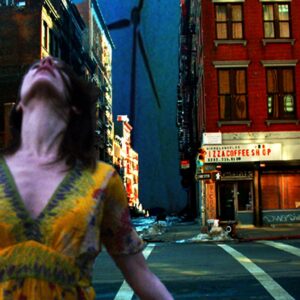 bluemouth inc.'s inaugural performance project – MAPPING CURRENTS – was presented at the 1998 Edgy Women Festival at Studio 303 in Montreal. This project established the company's mandate – to collectively create interdisciplinary performance works. This piece was followed by a 1999 performance of SPIRAL and CEASEFIRE during the 2000 Montreal Fringe Festival.
In the fall of 2000, bluemouth inc. relocated to Toronto and produced AMERICAN STANDARD. This move represented a significant shift in the collective's growth because two of the original members stayed in Montreal and were replaced in Toronto by a sound designer and a filmmaker. AMERICAN STANDARD was followed by a performance installation at The Gladstone Hotel entitled LENZ, in May of 2001. The company began to receive recognition for its unique style of engaging audiences in intimate and unusual settings.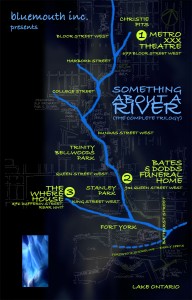 In spring 2002 bluemouth inc. began to workshop SOMETHING ABOUT A RIVER a triptych theatrical performance that would take place at three different locations along the buried Garrison Creek. The first of these three workshops was entitled THE FIRE SERMON and was presented at The Metro XXX Theatre.
In the fall of 2002, bluemouth inc. hosted a roundtable discussion as part of the Toronto Free Fall Festival bringing together local interdisciplinary artists and invited guests to discuss some of the difficulties facing the dissemination of interdisciplinary work across Canada. A result of this event was the creation of a national interdisciplinary website Popstart.
The second workshop of SOMETHING ABOUT A RIVER entitled DEATH BY WATER  took place in the winter of 2003 at Trinity Bellwoods Park. Small groups of viewers were transported by rickshaw from a nearby funeral parlour to the park, where they experienced an outdoor performance from inside a wooden shed. Later that year, the third and final part of the River Trilogy – WHAT THE THUNDER SAID – was presented at the 2003 Summerworks Festival.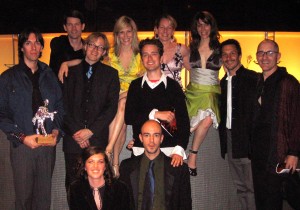 In November 2003, the company presented all three works – THE FIRE SERMON, DEATH BY WATER, and WHAT THE THUNDER SAID – as a complete 5-hour performance entitled SOMETHING ABOUT A RIVER. This performance was over three different locations across downtown Toronto and was subsequently nominated for six Dora Mavor Moore Awards, receiving the award for 'Outstanding Independent Production'.

THE MEMORY OF BOMBS was developed the following year through a residency at the Theatre Centre in Toronto and workshopped at the 2004 Summerworks Theatre Festival. This project was then revised and presented under its new title – HOW SOON IS NOW – the following year during the Theatre Centre's site-specific season. It was subsequently nominated for five Dora awards.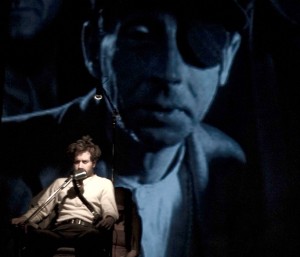 At the same time, the company began disseminating its work internationally by remounting a number of projects in New York City. Their first production – LENZ – was performed in the fall of 2005 in three rooms of the Carlton Arms Hotel, was selected as one of the top 15 shows of 2005 by NYtheatre.com. The working script for LENZ was subsequently published in the 2007 edition of Plays and Playwrights: An Anthology (published by The New York Theatre Experience, Inc.. WHAT THE THUNDER SAID was performed as part of the Lower Manhattan Cultural Council's 2006 Sitelines Festival while AMERICAN STANDARD was presented in January 2007 at Freeman's Barber shop in the Lower East Side. In February 2008, DEATH BY WATER was performed in Brooklyn's Fort Greene Park, followed by HOW SOON IS NOW at the Irondale Center in May 2009.
During a month-long residency at Montreal's Place Des Arts that same year, bluemouth began the creation of DANCE MARATHON, a duration-based interactive performance inspired by the dance marathons of the Great Depression. This project was developed through a commission from the Toronto Harbourfront Centre's national commissioning programme – Fresh Ground New Works – and was subsequently premiered at the 2009 Toronto World Stage Festival. Since its premiere, DANCE MARATHON has been presented in Ireland, Scotland, England, Australia, Tasmania, New York and at the 2010 Winter Olympics in Vancouver.
In 2012, bluemouth inc. was awarded an infrastructural development grant from the Ontario Trillium Foundation.
While continuing to tour DANCE MARATHON internationally, bluemouth inc. is currently at work on a new project It Comes In Waves in collaboration with director Jennifer Tarver from Necessary Angel and award winning playwright Jordan Tannhill from Suburban Beast. This new work is scheduled to premiere in July 2015 at the Pan American Games.